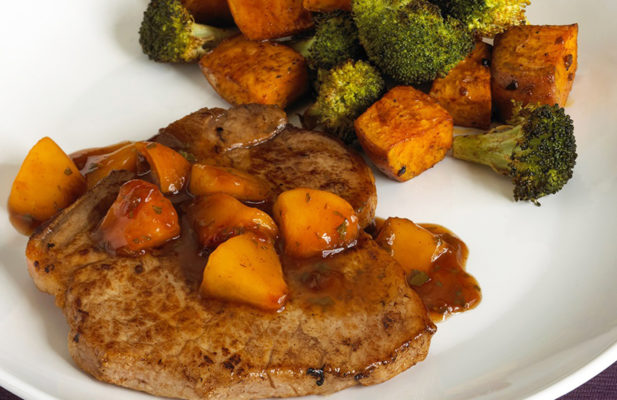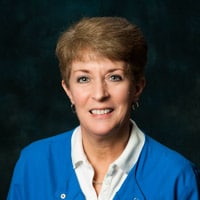 Recommended by Cheryl Farley, RN, BSN, Manager of Cardiac Rehab and Pulmonary Rehab
Courtesy of American Heart Association
This Simple Cooking with Heart American/Southern recipe is a fantastic meal that gives a hefty boost to your veggie and fruit intake for the day.
Ingredients
1/4 cup balsamic vinegar
1 tsp. balsamic vinegar
2 cloves fresh garlic (minced)
1 Tbsp. extra virgin olive oil
4 thinly sliced top loin pork chops (4 oz. each)
2 cups broccoli florets
2 small sweet potatoes (or 2 Cups)
1/4 tsp. chili powder
1 tsp. black pepper (divided-use)
1 cup unsweetened peaches (chopped)
1/2 cup sugar-free peach preserves
cayenne pepper (to taste)
1 Tbsp. fresh thyme leaves
non-stick cooking spray
Instructions
Preheat oven to 350° F.
In a medium mixing bowl, whisk together ¼-cup balsamic vinegar, garlic and olive oil. Reserve half of this mixture for vegetables. To half of the vinegar mixture, add pork chops. Cover and chill for 15-30 minutes.
In a large mixing bowl, add vegetables, chili powder and ½-teaspoon pepper and vinegar mixture and toss thoroughly to coat. Spread vegetables in one layer on a baking sheet coated with cooking spray. Roast for 35-40 minutes until potato is soft and broccoli begins to turn slightly crispy.
In a small skillet over medium-low heat, stir together 1 tablespoon of balsamic vinegar, peaches, peach preserves, cayenne pepper and thyme. Heat, stirring frequently, until sauce begins to simmer.
Remove pork chops from marinade and discard remaining liquid. Season with remaining pepper. Heat a large skillet over medium heat. Coat with cooking spray and add pork chops. Cook 2-3 minutes in each side, until cooked through.
Serve with 1 cup of vegetables and ¼ sauce drizzled over each pork chop.
Nutrition per serving
Calories: 346 calories
Carbohydrates: 44 grams
Fat: 6 grams
Fiber: 4 grams
Protein: 28 grams
Saturated Fat: 1.5 grams
Sodium: 113 milligrams
Makes 4 servings.
Please note, the information provided throughout this site is not intended or implied to be a substitute for professional medical advice, diagnosis or treatment. All content, including text, graphics, images, and video, on or available through this website is for general information purposes only. If you are experiencing related symptoms, please visit your doctor or call 9-1-1 in an emergency.