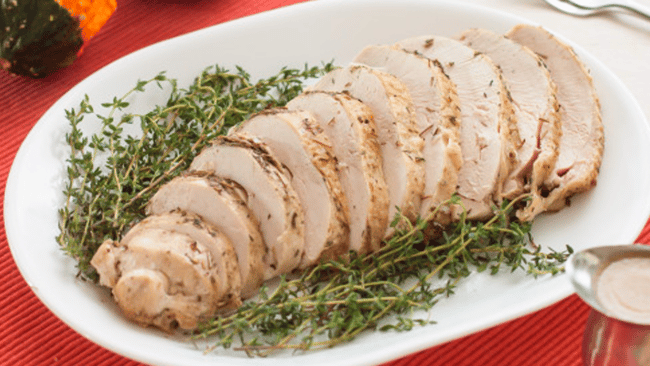 Recommended by Angelina R. Davis, EP, MS, Manager of Cardiac and Pulmonary Rehab., at UHC
Courtesy of myplate.gov
Perfect for a holiday gathering, this roast turkey breast can be prepared in less time than a whole turkey. Choose to omit salt as many packaged turkeys contain added sodium. Enjoy!
Ingredients
3 pounds turkey breast half (with skin and bones)
1 onion, large quartered
1 carrot, large quartered
1 teaspoon dried sage
1 teaspoon dried thyme
1 teaspoon rosemary
3 tablespoons olive oil
salt and pepper (to taste, optional)
chicken broth (for basting, optional)
Instructions
Wash hands with soap and water.
Preheat oven to 400°F.
Place turkey breast in roasting pan along with onion and carrot.
Mix spices with olive oil. Rub turkey with olive oil.
Roast turkey at 400°F for 15 minutes. Baste with margarine and chicken broth (optional).
Reduce turkey temperature to 350°F and roast turkey, basting every 20 minutes with pan juices (or margarine and chicken broth), about 1 hour and 15 minutes, or until meat thermometer inserted in thick part of meat registers 165°F.
Remove to carving board and let rest for 10 minutes.
Nutrition per serving
Calories: 213
Fat: 6 g
Saturated Fat: 1 g
Sodium: 67 mg
Carbohydrates: 3 g
Fiber: 1 g
Sugar: 1 g
Makes 8 servings
Follow United Hospital Center on Facebook for more recommended recipes shared weekly.
Please note, the information provided throughout this site is not intended or implied to be a substitute for professional medical advice, diagnosis or treatment. All content, including text, graphics, images, and video, on or available through this website is for general information purposes only. If you are experiencing related symptoms, please visit your doctor, or call 9-1-1 in an emergency.