UHC's iconic tree is on display now through the New Year
Since the opening of United Hospital Center (UHC), the lighting of the mega tree symbolizes the beginning of the holiday season. This year, it is sure to be an attraction once again.
"UHC's massive tree is the second largest exterior tree installation between Bridgeport and Pittsburgh for Plantscape," Mark A. Carrozza, design and sales consultant with Plantscape, said. "A tree of this magnitude is a sight to behold and is the perfect selfie spot, too." Plantscape is a commercial landscape and decorating company in Pittsburgh.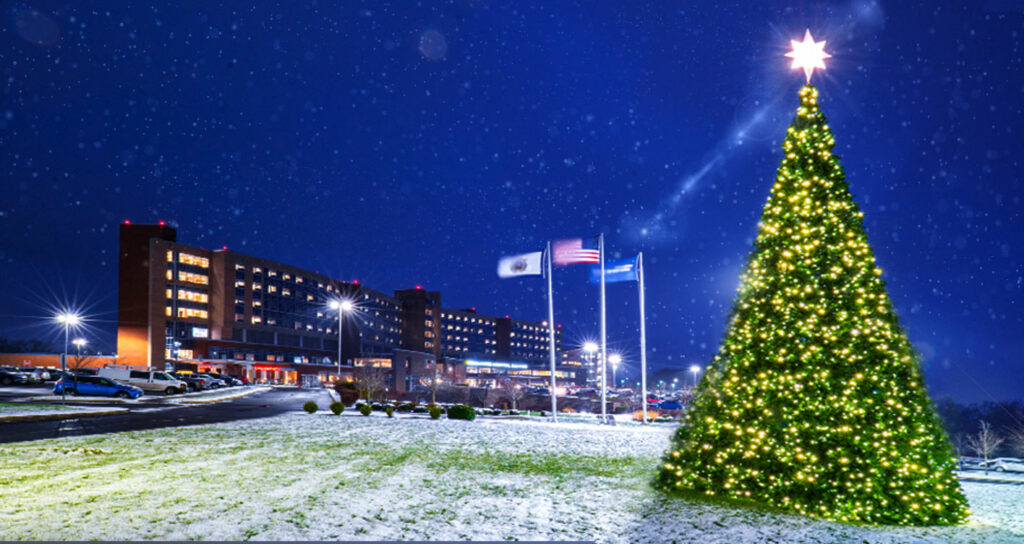 The 40-foot-tree has 432 branches made from 100-percent recyclable PVC film, and is adorned with 4,320 LED lights. The tree is 20 feet in diameter, weighs approximately 2,500 pounds, and is made from 66-percent recycled steel. The frame itself is 100-percent recyclable.
"The manufacturing process used green-friendly paints, as well as organic cleaning solutions on the frames prior to painting," Geoff Marshall, vice president of Support Services at UHC, said. "The LED lights use 90-percent less electricity versus standard Edison-base incandescent lamps."
"You can just feel the holiday spirit as you look at this tree sparkle," Carrozza said. "It is the one holiday decoration you cannot get enough of and the one you must see year-after-year."
About Plantscape
Over the past years 48 years, Plantscape has built its reputation on quality and professional service delivered at the very best price. Today, we service over 850 business customers in the Pittsburgh and surrounding markets, and we are ranked among the largest interior plant companies in the United States. Our team of over 50 horticulturists, technicians, installers, managers and support staff is perhaps the best trained in the business.  We currently provide interior and exterior landscape services as well as being the largest Holiday decorating company in the area.
We have built a reputation for innovative design—and along the way we have won more than 50 national awards including the National Landscape Award presented at the White House.  www.plantscape.com for more information.
Please note, the information provided throughout this site is not intended or implied to be a substitute for professional medical advice, diagnosis or treatment. All content, including text, graphics, images, and video, on or available through this website is for general information purposes only. If you are experiencing related symptoms, please visit your doctor or call 9-1-1 in an emergency.