Early detection of stroke, deep vein thrombosis (DVT), and peripheral arterial disease is possible through the use of vascular testing procedures performed within hospitals, outpatient centers, and physicians' offices.
A stroke occurs when the blood supply to the brain is blocked or when a blood vessel in the brain bursts. It is a devastating event that can cause brain damage or death. It is the third leading cause of death and the leading cause of disability in the country, with nearly 800,000 new strokes occurring annually.
Deep vein thrombosis (DVT) is a blood clot in a deep vein. The precise number of people affected by deep vein thrombosis (DVT) leading to a pulmonary embolism (PE) is unknown, although as many as 900,000 people could be affected each year in the United States. Sudden death is the first symptom in about one-quarter (25%) of people who have a PE.
Peripheral arterial disease is narrowing or blockage of the vessels that carry blood from the heart to the legs. The Centers for Disease Control and Prevention estimates that approximately 8 million Americans have peripheral arterial disease.
There are many factors that contribute to an accurate diagnosis based on vascular testing. The training and experience of the technologist performing the procedure, the type of equipment used, and the quality assessment metrics each facility is required to measure, all contribute to a positive patient outcome. Intersocietal Accreditation Commission (IAC) accreditation is a "seal of approval" that patients can rely on as an indicator of consistent quality care and a dedication to continuous improvement.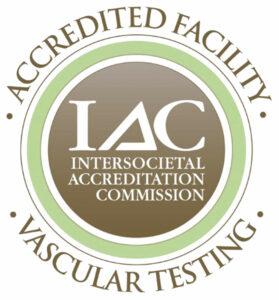 WVU Medicine United Hospital Center (UHC) has been granted a three-year term of accreditation by the IAC in Vascular Testing in the area(s) of Peripheral Arterial Testing, Extracranial Cerebrovascular Testing, and Peripheral Venous Testing. This latest accreditation awarded to UHC, demonstrates the facility's ongoing commitment to providing quality patient care in vascular testing.
Please note, the information provided throughout this site is not intended or implied to be a substitute for professional medical advice, diagnosis, or treatment. All content, including text, graphics, images, and video, on or available through this website is for general information purposes only. If you are experiencing related symptoms, please visit your doctor or call 9-1-1 in an emergency.