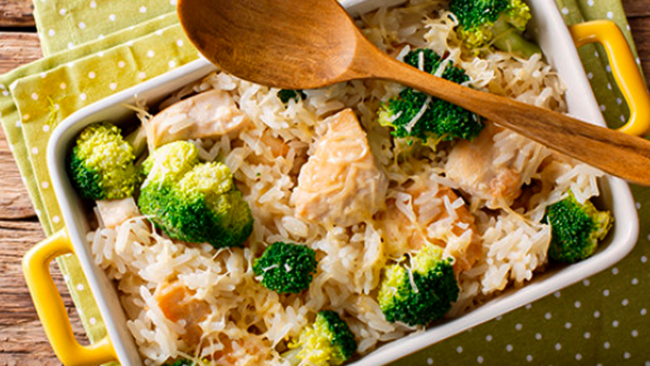 Recommended by Angelina Davis, EP, MS, Manager of Cardiac Rehab and Pulmonary Rehab
Courtesy of myplate.gov
September is National Chicken Month! This Chicken and Broccoli Bake is an easy weeknight meal. Use fresh-cooked chicken or leftovers that have been properly handled to save time in this baked casserole.
Ingredients
1 cup rice, uncooked (brown rice is suggested)
1 broccoli, frozen (10-ounce package)
3 cups chicken, cooked
2 tablespoons margarine (or butter)
1/4 cup flour (whole wheat flour is preferred)
2 cups chicken broth (it is recommended to use lower sodium chicken broth)
Parmesan cheese (1/4 cup, optional)
Instructions
Wash hands with soap and water.
Cook rice in 2 cups of water.
Let broccoli thaw.
Chicken should be off the bone.
Melt margarine in large sauce pan. Add flour to melted margarine and stir. This will be lumpy.
Use broth from chicken you cooked or use canned chicken broth. Slowly add broth to margarine/flour. Stir to remove lumps and thicken.
Add cheese and stir.
Add rice, broccoli, and chicken. Stir.
Put in a casserole pan and bake at 350 degrees for 30 minutes or until thoroughly heated.
Nutrition per serving
Calories: 219
Fat: 5 g
Saturated Fat: 1 g
Cholesterol: 49 mg
Carbohydrates: 24 g
Fiber: 1 g
Sugar: 1 g
Makes 8 servings
Follow United Hospital Center on Facebook for more recommended recipes shared weekly.
Please note, the information provided throughout this site is not intended or implied to be a substitute for professional medical advice, diagnosis or treatment. All content, including text, graphics, images, and video, on or available through this website is for general information purposes only. If you are experiencing related symptoms, please visit your doctor, or call 9-1-1 in an emergency.