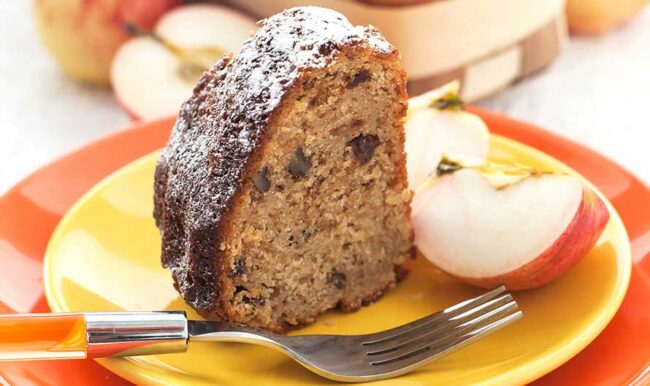 Recommended by Angelina R. Davis, EP, MS, Manager of Cardiac and Pulmonary Rehab., at UHC
Courtesy of recipes.heart.org
Find the flavors and spices of autumn in this no-sugar-added dessert. Baking with applesauce helps keep the saturated fat out and the moistness in.
Ingredients
Cooking spray
2 cups unsweetened applesauce
1/2 cup trans-fat-free tub margarine
1 tablespoon plus 1 teaspoon stevia sweetener
8 stevia sweetener packets
3 large eggs
3 cups whole-grain flour, sifted, plus extra for dusting
1 teaspoon ground cinnamon
1/2 teaspoon salt
1/2 teaspoon baking soda
1/8 teaspoon ground nutmeg
1 tablespoon vanilla extract
3 cups chopped apples, such as Granny Smith or Honeycrisp
1 cup chopped walnuts
1/2 cup unsweetened, dried cranberries
2 tablespoons unsweetened shredded coconut flakes, optional
Instructions
Preheat the oven to 350°F. Lightly spray a 10-inch Bundt pan with cooking spray and lightly dust it with flour.
Using an electric mixer on medium speed, in a medium bowl, beat the applesauce, margarine, and stevia sweetener until well blended. Add the eggs, beating after each one.
In a large bowl, sift the flour, cinnamon, salt, baking soda, and nutmeg. Add the flour mixture to the applesauce mixture, beating on medium speed just until no flour is visible. Stir in the vanilla. Gently fold in the apples, walnuts, and cranberries. Pour the batter into the pan.
Bake for 1 hour, or until a wooden toothpick inserted into the center comes out clean. Transfer to a cooling rack. Let the cake cool completely. To help remove the cake from the pan, slide a butter knife along the outer edges of the pan and along the inner tube to release the cake.
Invert the cake. Transfer to a serving plate. Sprinkle with the coconut flakes.
Nutrition per serving
Calories: 200 per serving
Protein: 5g perserving
Fiber: 4g per serving
Fat: 10g per serving
Sodium: 182mg per serving
Carbohydrates: 25g per serving
Makes 16 servings
Follow United Hospital Center on Facebook for more recommended recipes shared weekly.
Please note, the information provided throughout this site is not intended or implied to be a substitute for professional medical advice, diagnosis or treatment. All content, including text, graphics, images, and video, on or available through this website is for general information purposes only. If you are experiencing related symptoms, please visit your doctor, or call 9-1-1 in an emergency.