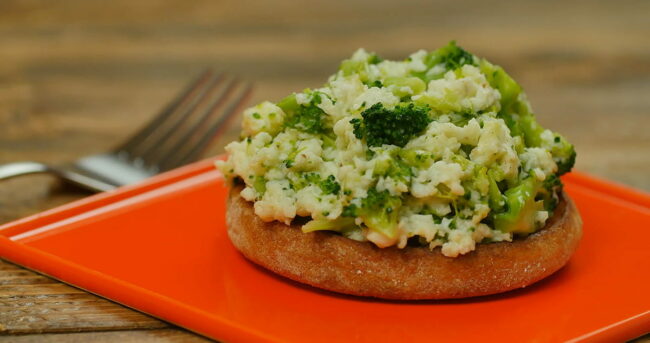 Recommended by UHC Cardiac Rehab
Courtesy of heart.org
Enjoy this protein-rich breakfast any day of the week!
Ingredients
Cooking spray
1 1/2 cups finely chopped fresh or frozen broccoli florets, thawed if frozen
1/4 cup water
8 extra-large egg whites or 1 1/4 cups egg white substitute
1/2 cup fat-free milk
1/4 teaspoon pepper (freshly ground preferred)
1/4 cup shredded fat-free cheddar cheese
2 whole-wheat English muffins (lowest sodium available)
Instructions
Lightly spray a large skillet with cooking spray. Heat over medium-high heat. Cook the broccoli and water for 4 to 5 minutes, or until the broccoli is tender. Remove from the heat. Transfer the broccoli to a dish. Using paper towels, wipe the skillet clean.
In a large bowl, whisk together the egg whites, milk, and pepper until combined.
Meanwhile, lightly spray the skillet with cooking spray. Heat over medium-high heat. Pour in the egg white mixture. Cook for 2 to 3 minutes, or until almost firm, stirring constantly with a spatula. Stir in the broccoli and cheddar. Remove from the heat.
Just before serving, split and toast each English muffin. Transfer to plates. Spoon the egg mixture onto the muffins.
Nutrition per serving
Calories: 139
Fat: 1.0g
Cholesterol: 2mg
Sodium: 338mg
Carbohydrates: 18g
Protein: 15g
Makes 4 servings
Follow United Hospital Center on Facebook for more recommended recipes shared weekly.
Please note, the information provided throughout this site is not intended or implied to be a substitute for professional medical advice, diagnosis or treatment. All content, including text, graphics, images, and video, on or available through this website is for general information purposes only. If you are experiencing related symptoms, please visit your doctor, or call 9-1-1 in an emergency.