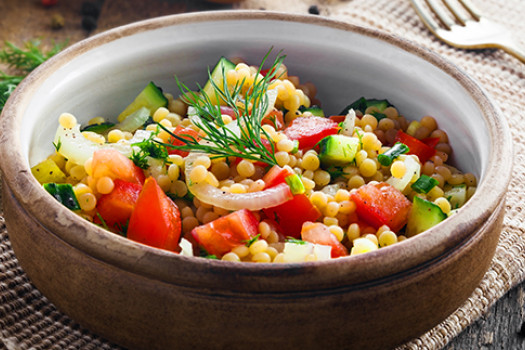 Courtesy of USDA MyPlate
Fresh tomatoes and cucumbers make this couscous salad a summer time treat.
Ingredients
2 cups cucumber (diced)
1 cup tomato (seeded and diced)
1/4 cup onion (chopped sweet)
2 cups couscous or rice, cooked
2 teaspoons dill weed (chopped dried or fresh)
1/2 cup Italian salad dressing, low-fat
Instructions
Wash hands.
Toss together the cucumbers, tomatoes, onions, couscous (or rice), dill, and salad dressing.
Chill for 1 hour.
Serve.
Nutrition per serving
Calories: 331
Fat: 1g
Saturated Fat: 0g
Cholesterol: 1mg
Sodium: 344mg
Carbohydrates: 68g
Fiber: 5g
Sugar: 5g
Protein: 11g
Makes 4 servings
Follow United Hospital Center on Facebook for more recommended recipes shared weekly.
Please note, the information provided throughout this site is not intended or implied to be a substitute for professional medical advice, diagnosis or treatment. All content, including text, graphics, images, and video, on or available through this website is for general information purposes only. If you are experiencing related symptoms, please visit your doctor, or call 9-1-1 in an emergency.