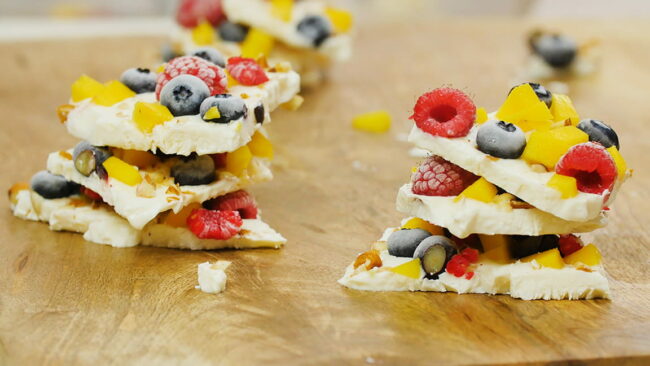 Recommended by UHC Registered Dietitians
Courtesy of American Heart Association
This frozen delight, studded with fresh summer fruit, is delicious and healthy. With calories coming in under 100 and very little added sugar, it's a cool heart-healthy dessert on a hot summer's day.
Ingredients
1 1/2 cups low-fat plain Greek yogurt
2 tablespoons honey or pure maple syrup
2 tablespoons chopped unsalted almonds
1/2 cup finely chopped mango
1/2 cup blueberries
1/4 cup blackberries or raspberries, chopped if large
Instructions
In a medium bowl, whisk together the yogurt and honey until combined.
Line a 13 x 9 x 2-inch baking dish with parchment paper. Using a spatula or knife, spread the yogurt mixture over the paper as thinly as possible.
Sprinkle the almonds over the yogurt mixture. Using your fingertips, gently press the almonds into the yogurt mixture.
Sprinkle the mango, blueberries, and raspberries over all. Using your fingertips, gently press the fruit into the yogurt mixture.
Cover the dish with plastic wrap or aluminum foil. Freeze overnight.
At serving time, remove the baking dish from the freezer. Gently lift the parchment paper from the dish and transfer to a cutting board. Using your hands, break the bark into pieces (or you may need to hit it lightly on the surface of the cutting board). It's best to eat the bark immediately. It begins to melt 15 minutes after being removed from the freezer.
Nutrition per serving
Calories: 70
Fat: 2g
Cholesterol: 3mg
Sodium: 15mg
Carbohydrates: 10g
Protein: 4g
Makes 8 servings
Follow United Hospital Center on Facebook for more recommended recipes shared weekly.
Please note, the information provided throughout this site is not intended or implied to be a substitute for professional medical advice, diagnosis or treatment. All content, including text, graphics, images, and video, on or available through this website is for general information purposes only. If you are experiencing related symptoms, please visit your doctor, or call 9-1-1 in an emergency.