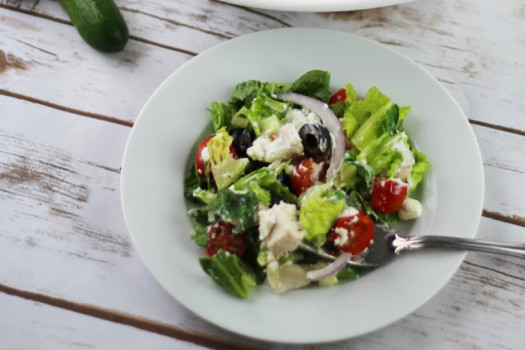 Recommended by United Hospital Center Dietitians
Courtesy of USDA MyPlate
A colorful salad loaded with lettuce, cucumbers, tomatoes, onions, and olives topped with chicken and a creamy yogurt dressing.
Ingredients
For the dressing:
1/2 cup Greek yogurt, fat-free
2 teaspoons lemon juice
2 teaspoons olive oil
1 clove garlic
1 teaspoon oregano
1/4 teaspoon salt
1/4 teaspoon pepper
For the salad:
1 head romaine lettuce
1/2 cup cherry tomatoes, cut in half
1 cucumber, diced
1/4 cup red onion, sliced
1/4 cup black olives, cut in half
1 cup cooked chicken breast, cubed
1/4 cup feta cheese, crumbled
Instructions
To make the dressing, add Greek yogurt, lemon juice, olive oil, garlic, oregano, salt, and pepper to a small bowl. Mix well to combine.
Cover dressing and refrigerate for at least 1 hour.
Wash lettuce and tear into bite-sized pieces. Place in large salad bowl and add tomatoes, cucumbers, red onion, olives, and chicken.
Sprinkle with feta cheese.
Top with yogurt dressing and enjoy.
Nutrition per serving
Calories: 173
Fat: 7 g
Saturated Fat: 2 g
Cholesterol: 42 mg
Sodium: 522 mg
Carbohydrates: 12 g
Fiber: 6 g
Sugar: 5 g
Protein: 18 g
Makes 4 servings
Follow United Hospital Center on Facebook for more recommended recipes shared weekly.
Please note, the information provided throughout this site is not intended or implied to be a substitute for professional medical advice, diagnosis or treatment. All content, including text, graphics, images, and video, on or available through this website is for general information purposes only. If you are experiencing related symptoms, please visit your doctor, or call 9-1-1 in an emergency.