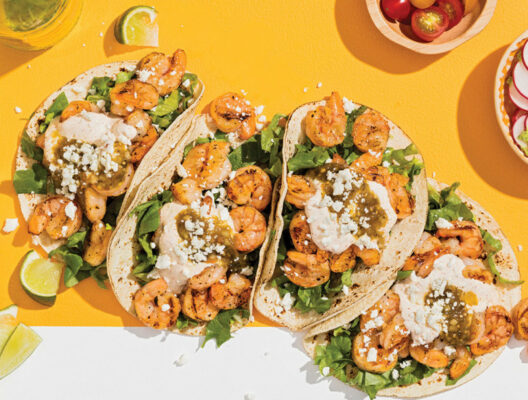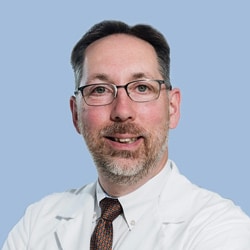 Recommended by Dr. Mark Povroznik, vice president of Quality at UHC, Grill Master
Courtesy of Diabetes Food Hub
Here is a light and tasty summer taco recipe that is great for a family dinner or the next time you have guests. These tacos are delicious as is, or with different toppings. Try pico de gallo, halved cherry tomatoes, sliced radishes, onion, shredded cabbage, or even half of a grilled peach.
Ingredients
1/4 cup Greek yogurt
2 tbsp. light mayonnaise
1/2 tsp. chili powder
12 oz shrimp (peeled and deveined)
4 long bamboo skewers (soaked in warm water)
1 tbsp. olive oil
2 clove garlic (minced or grated)
1 lime (juiced)
1/2 tsp. salt (optional)
1/4 tsp. black pepper (ground )
4 corn tortillas (6-inch)
1 cup lettuce (shredded)
1/2 cup salsa verde (tomatillo salsa)
2 1/2 tbsp. cotija or feta cheese
Instructions
Preheat an indoor or outdoor grill.
In a small bowl, whisk together the yogurt, mayonnaise, and chili powder. Cover and keep in the refrigerator until needed.
Skewer 3 ounces of shrimp on each skewer.
In a small bowl, whisk together olive oil, garlic, lime juice, salt (optional) and pepper. Brush the shrimp with the marinade and grill for 3-4 minutes on each side until the shrimp are pink and just firm. Continue to brush with the marinade while grilling, using all of the marinade.
Heat the corn tortillas briefly on the grill. Remove the shrimp from one skewer and place in a tortilla. Top the shrimp with 1/4 cup shredded lettuce, a heaping tablespoon of the reserved yogurt sauce, and 2 tablespoons of salsa verde, and about 2 teaspoons cheese. Repeat for the remaining three tacos.
Nutrition per serving
Calories: 220
Carbohydrates: 17g
Cholesterol: 150mg
Fat: 8g
Saturated Fat: 1.5g
Fiber: 2g
Protein: 23g
Sodium: 390mg
Sugar: 2g
Makes 4 servings
Follow United Hospital Center on Facebook for more recommended recipes shared weekly.
Please note, the information provided throughout this site is not intended or implied to be a substitute for professional medical advice, diagnosis or treatment. All content, including text, graphics, images, and video, on or available through this website is for general information purposes only. If you are experiencing related symptoms, please visit your doctor, or call 9-1-1 in an emergency.