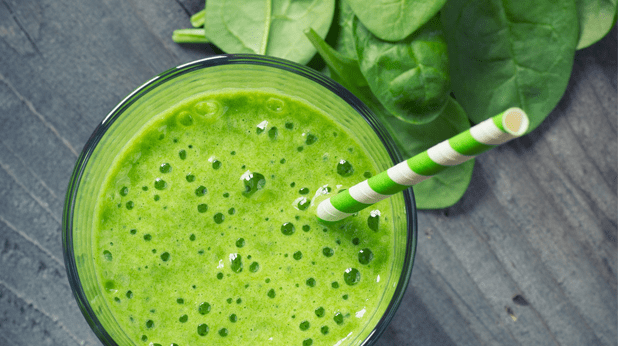 Recommended by UHC Registered Dietitians
Courtesy of American Heart Association
This produce-packed smoothie is a great way to get extra fruit and vegetables into your day. This recipe makes enough to share with the whole family.
Ingredients
1 large green apple, unpeeled, cored, and cut into large pieces
1 to 2 handfuls of baby spinach
1/4 large cucumber, peeled and cut into large pieces
1 medium kiwifruit, peeled and cut into large pieces
2 tablespoons fresh lemon juice
1 cup fat-free milk
2 teaspoons honey
1 cup ice cubes
Instructions
In a food processor or blender, process all the ingredients until thoroughly blended.
Nutrition per serving
Calories: 53
Fat: 0.5g
Cholesterol: 2mg
Sodium: 30mg
Carbohydrates: 11g
Protein: 2g
Makes 6 servings
Follow United Hospital Center on Facebook for more recommended recipes shared weekly.
Please note, the information provided throughout this site is not intended or implied to be a substitute for professional medical advice, diagnosis or treatment. All content, including text, graphics, images, and video, on or available through this website is for general information purposes only. If you are experiencing related symptoms, please visit your doctor, or call 9-1-1 in an emergency.