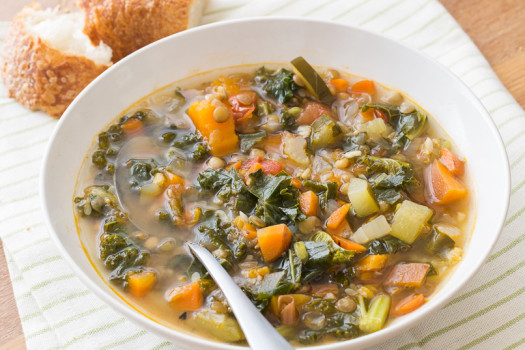 Recommended by Garden View Café at United Hospital Center
Courtesy of USDA MyPlate
This soup starts with plenty of vegetables - carrots, celery, sweet potato, zucchini, and tomatoes and hearty lentils simmered to make a rich and tasty meal for a hungry family.
Ingredients
1 tablespoon olive or vegetable oil
1 yellow onion (peeled and chopped)
2 cloves garlic (peeled and minced)
3 carrots (scrubbed and diced into 1/4-inch pieces)
1 celery stalk (diced into 1/4-inch pieces)
1 sweet potato (scrubbed and diced into 1/4-inch pieces)
1 zucchini (diced into 1/4-inch pieces or 1 cup of frozen zucchini)
2 cups canned low-sodium, diced tomatoes (including liquid or fresh tomatoes)
1/2 cup lentils (brown or red)
8 cups water
1 cube low-sodium chicken bouillon
4 cups kale (washed and chopped into 1/4-1/2-inch pieces)
Instructions
Put a soup pot on the stove over medium-high heat. When the pot is hot, add the oil. Add onion and garlic and cook about 7 minutes until golden.
Add carrots, celery, sweet potato, and zucchini and cook about 10 minutes until slightly tender.
Add tomatoes, lentils, water, and chicken bouillon cube and bring to a boil over high heat. Turn the heat down to low, cover and cook 40 minutes.
Add the kale and cook an additional 20 minutes. Serve right away or cover and refrigerate for up to 3 days.
Nutrition per serving
Calories: 167
Fat: 3g
Saturated Fat: 0g
Cholesterol: 0mg
Sodium: 82mg
Carbohydrates: 29g
Fiber: 8g
Sugar: 3g
Protein: 8g
Makes 6 servings
Follow United Hospital Center on Facebook for more recommended recipes shared weekly.
Please note, the information provided throughout this site is not intended or implied to be a substitute for professional medical advice, diagnosis or treatment. All content, including text, graphics, images, and video, on or available through this website is for general information purposes only. If you are experiencing related symptoms, please visit your doctor or call 9-1-1 in an emergency.