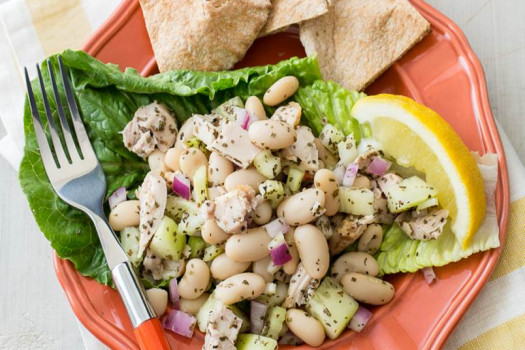 Courtesy of USDA MyPlate
This refreshing salad starts with cooked chicken, white beans, cucumber, and onion with a splash of fresh lemon juice, oil, and seasonings for a delicious combination. Try it with tuna and chopped tomatoes for variety.
Ingredients
1 cup skinless cooked chicken (diced into 1/2 inch pieces)
1 can 15.5 ounce low-sodium white beans (drained and rinsed with cold water)
1 cucumber (peeled and diced into 1/2-inch pieces)
1/4 red or white onion (peeled and chopped into 1/2-inch pieces)
2 tablespoons vegetable oil
1/4 cup lemon juice
1 tablespoon dried basil or parsley leaves
1/4 teaspoon salt
1/4 teaspoon black pepper
Instructions
Put everything in the bowl and gently toss.
Serve right away, or cover and refrigerate for up to 2 days.
Nutrition per serving
Calories: 297
Fat: 11g
Saturated Fat: 2g
Cholesterol: 32mg
Sodium: 288mg
Carbohydrates: 31g
Fiber: 8g
Sugar: 2g
Protein: 20g
Makes 24 servings
Follow United Hospital Center on Facebook for more recommended recipes shared weekly.
Please note, the information provided throughout this site is not intended or implied to be a substitute for professional medical advice, diagnosis or treatment. All content, including text, graphics, images, and video, on or available through this website is for general information purposes only. If you are experiencing related symptoms, please visit your doctor, or call 9-1-1 in an emergency.