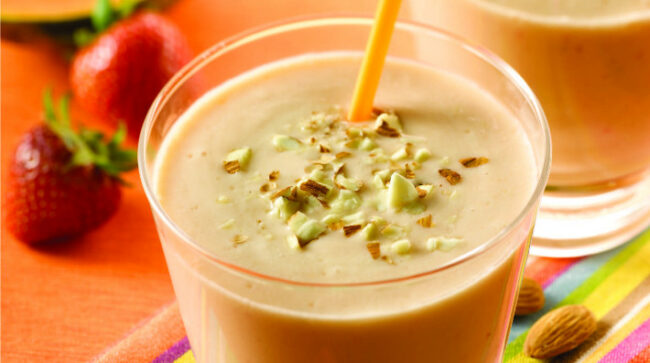 Recommended by UHC Registered Dietitians
Courtesy of American Cancer Society
This flavor-bursting smoothie will help you get the nutrients needed for your day. Plus, it is easy to make and serves the whole family.
Ingredients
1 cup nonfat plain or vanilla yogurt
1 cup chopped papaya
⅓ cup fresh or frozen chopped strawberries
1 cup skim or 1 percent milk
1 teaspoon vanilla
2 tablespoons honey or agave nectar (optional)
2 tablespoons slivered almonds
2 tablespoons chopped almonds (optional)
Instructions
Combine the yogurt, papaya, strawberries, milk, vanilla, honey, and almonds in a blender and mix well. Sprinkle chopped almonds on each serving, if desired.
Nutrition per serving
Calories: 126
Fat: 2.2g
Sodium: 68mg
Carbohydrates: 21g
Protein: 6g
Makes 4 servings
Follow United Hospital Center on Facebook for more recommended recipes shared weekly.
Please note, the information provided throughout this site is not intended or implied to be a substitute for professional medical advice, diagnosis or treatment. All content, including text, graphics, images, and video, on or available through this website is for general information purposes only. If you are experiencing related symptoms, please visit your doctor, or call 9-1-1 in an emergency.