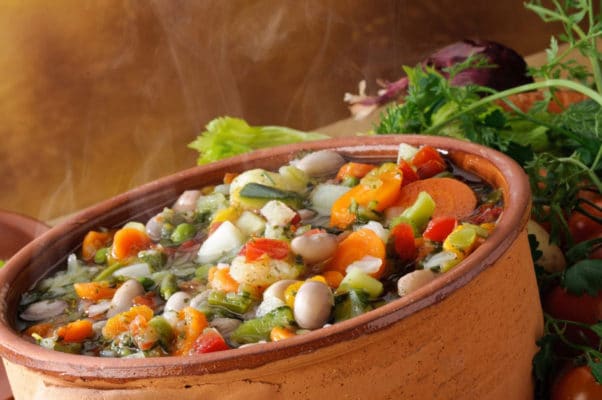 Courtesy of American Institute for Cancer Research
If you are rushing around this week, dinner may seem like a daunting new task. Do not worry! We have a healthy dish you can prepare in a breeze. Frozen veggies cut down on prep time and thanks to flash-freezing technology, contain the same nutrients as their fresh counterparts. Beans add protein and extra fiber. Serve this soup with some warm, crusty whole grain bread for a quick and wholesome meal.
Ingredients
1 Tbsp. extra virgin olive oil
1 chopped onion
4 cups low-sodium vegetable broth
1/2 cup frozen baby lima beans
1 (15 oz.) can no salt added back, Great Northern, or navy beans
1 cup frozen mixed vegetables
1/2 cup frozen tri-colored bell peppers
2 tsp. dried oregano or thyme
Pinch of dried red pepper flakes
1 cup frozen broccoli florets
Salt, to taste (optional)
1/4 cup grated Parmesan cheese
Instructions
In a large saucepan, heat oil over medium-high heat. Add onion and cook until translucent, about 5 minutes, stirring occasionally. Add broth and bring liquid to boil. Add lima beans, reduce heat and simmer covered for 5 minutes.
Add canned beans, mixed vegetables, peppers, oregano and pepper flakes and simmer covered for 5 minutes. Add broccoli, cover, and cook for 5 minutes. Add salt to taste. This soup keeps covered in refrigerator for 3 days. Reheat in covered pot over medium heat.
To serve, divide soup among deep bowls. Option to top each serving with 1 tablespoon of Parmesan cheese.
Nutrition per serving
Calories: 250
Carbohydrates: 32 grams
Cholesterol: 5 milligrams
Fat: 8 grams
Fiber: 9 grams
Protein: 10 grams
Saturated Fat: 2 grams
Sodium: 410 milligrams
Sugar: 5 grams
Trans Fat: 0 grams
Makes 4 servings
Follow United Hospital Center on Facebook for more recommended recipes shared weekly.
Please note, the information provided throughout this site is not intended or implied to be a substitute for professional medical advice, diagnosis or treatment. All content, including text, graphics, images, and video, on or available through this website is for general information purposes only. If you are experiencing related symptoms, please visit your doctor, or call 9-1-1 in an emergency.