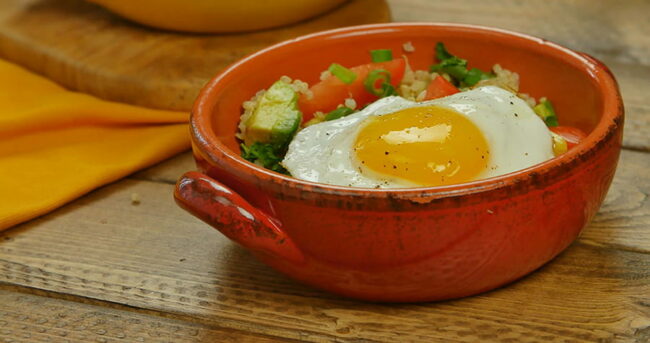 Recommended by UHC Cardiac Rehab
Courtesy of heart.org
Quinoa is a good source of protein and fiber, so enjoying this whole grain at breakfast is a nutritious way to start the day.
Ingredients
1/4 cup uncooked quinoa, rinsed and drained
2 medium tomatoes, chopped (about 2 cups)
1 cup no-salt-added frozen corn, thawed
1/2 medium avocado, pitted and diced
1/4 cup chopped green onions
1/2 cup chopped fresh cilantro (optional)
Cooking spray
4 large eggs
1/8 teaspoon salt
1/4 teaspoon pepper
Red hot-pepper sauce to taste (optional)
Instructions
Cook the quinoa according to the package directions. Remove from the heat.
Spoon the quinoa into four bowls. Top each with tomatoes, corn, avocado, green onions and cilantro.
Lightly spray a large skillet with cooking spray. Crack the eggs into the skillet. Sprinkle the salt and pepper over the eggs. Cook, uncovered, over medium-high heat for 3 to 4 minutes, or until the egg whites are set but the yolks are still runny. Using a spatula, carefully transfer one egg sunny side up into each of the bowls. Sprinkle with the hot sauce.
Nutrition per serving
Calories: 244
Fat: 10.0g
Cholesterol: 186mg
Sodium: 154mg
Carbohydrates: 29g
Protein: 12g
Makes 4 servings
Follow United Hospital Center on Facebook for more recommended recipes shared weekly.
Please note, the information provided throughout this site is not intended or implied to be a substitute for professional medical advice, diagnosis or treatment. All content, including text, graphics, images, and video, on or available through this website is for general information purposes only. If you are experiencing related symptoms, please visit your doctor, or call 9-1-1 in an emergency.