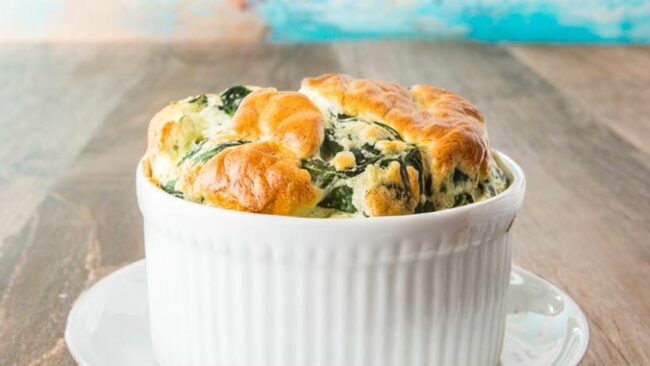 Recommended by Recommended by UHC Dietitians
Courtesy of American Heart Association
This classic French dish combines egg yolks and egg whites with fresh spinach, herbs, and grated Parmesan. While baking, the egg mixture puffs up to form a golden crust on the outside, sealing in light, airy goodness.
Ingredients
Cooking spray
1 tablespoon plus 1 1/2 teaspoons whole-wheat bread crumbs (lowest sodium available)
4 large egg whites
1/4 teaspoon cream of tartar
6 ounces fresh baby spinach
1 teaspoon minced garlic
1 tablespoon chopped, fresh Italian (flat-leaf) parsley
- OR - 1 teaspoon dried parsley (crumbled)
2/3 cup fat-free milk (cold)
2 tablespoons all-purpose flour
1/8 teaspoon black pepper
2 ounces grated Parmesan cheese
2 large egg yolks
Instructions
Preheat the oven to 425°F. Lightly spray four 6-ounce ramekins with cooking spray. Lightly sprinkle the bread crumbs in each, spreading to coat the bottom and sides completely.
In a medium bowl, whisk together the egg whites and cream of tartar. Set aside.
Lightly spray a small skillet with cooking spray. Cook the spinach and garlic over medium heat for 3 to 4 minutes, or until the spinach is wilted but still very green, stirring constantly. Remove from the heat. Stir in the parsley. Set aside.
In a medium saucepan, whisk together the milk, flour, and pepper. Bring to a boil over medium-high heat for 4 to 5 minutes, or until the mixture thickens, whisking constantly. Remove from the heat. Let cool for 10 minutes.
Meanwhile, using a hand mixer or stand mixer, beat the egg white mixture on high speed for 20 to 30 seconds, or until medium peaks form.
Stir the spinach mixture into the milk mixture. Stir in the Parmesan and egg yolks until well combined. Gently fold in one-third of the egg white mixture at a time until well combined.

Spoon 1/2 cup of the soufflé mixture into each of the ramekins. Gently tap the ramekins on the counter 2 or 3 times to level the mixture. Place the ramekins on a baking sheet.
QUICK TIP: Don't get excited and open the oven early to peek! Doing this may cause the soufflé to fall.

Bake for 5 minutes. Reduce the oven temperature to 350˚F. Bake for 20 minutes, or until the soufflés are puffy and golden brown. Serve immediately.
Nutrition per serving
Calories: 144
Protein: 14g
Fiber: 1g
Carbohydrates: 9g
Sugar: 3g
Saturated Fat: 3g
Makes 4 servings
Follow United Hospital Center on Facebook for more recommended recipes shared weekly.
Please note, the information provided throughout this site is not intended or implied to be a substitute for professional medical advice, diagnosis or treatment. All content, including text, graphics, images, and video, on or available through this website is for general information purposes only. If you are experiencing related symptoms, please visit your doctor, or call 9-1-1 in an emergency.