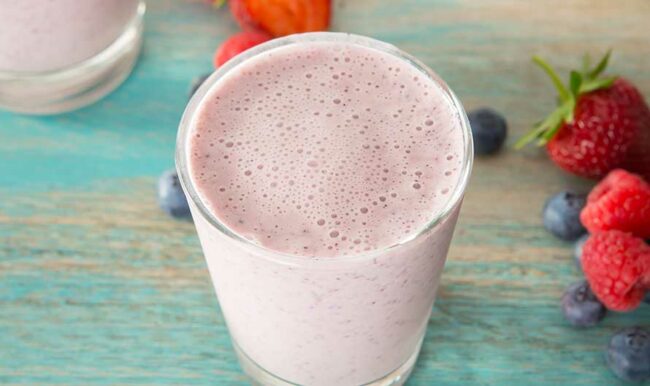 Recommended by UHC Registered Dietitians
Courtesy of American Heart Association
This trio of berry flavors with a hint of nuttiness will brighten your day. It's a super simple shake to make and chock full of powerhouse nutrients.
Ingredients
1 cup unsweetened almond milk
1/2 cup fat-free, plain Greek yogurt
1 teaspoon stevia sweetener or 2 stevia sweetener packets
1 squeeze mixed berry-flavored stevia water enhancer
1/4 cup fresh or frozen, unsweetened blueberries
1/4 cup fresh or frozen, unsweetened raspberries
1/4 cup fresh or frozen, unsweetened strawberries
Instructions
In a food processor or blender, process all the ingredients for 1 to 2 minutes, or until the desired texture. Pour into glasses.
Nutrition per serving
Calories: 78
Fat: 2g
Cholesterol: 3mg
Sodium: 111 mg
Carbohydrates: 9g
Protein: 7g
Makes 2 servings
Follow United Hospital Center on Facebook for more recommended recipes shared weekly.
Please note, the information provided throughout this site is not intended or implied to be a substitute for professional medical advice, diagnosis or treatment. All content, including text, graphics, images, and video, on or available through this website is for general information purposes only. If you are experiencing related symptoms, please visit your doctor, or call 9-1-1 in an emergency.