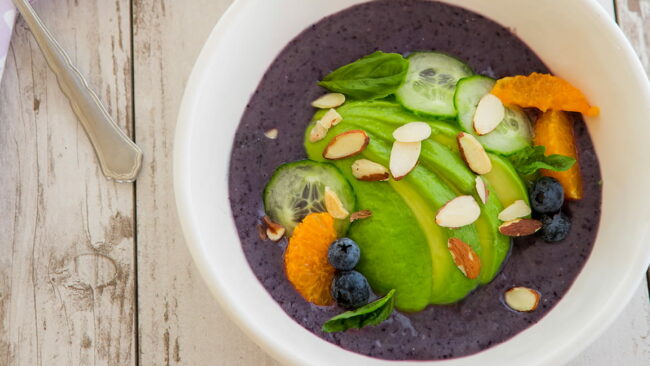 Recommended by UHC Registered Dietitians
Courtesy of American Heart Association
Grab your spoon and savor this smoothie in a bowl! Slices of avocado and tangerine are bright, beautiful, and healthy garnishes.
Ingredients
1 medium ripe avocado (about 8 ounces), peeled and halved, divided use
1 cup ice
3/4 cup unsweetened vanilla almond milk
3/4 cup frozen unsweetened wild blueberries, thawed, 1 tablespoon reserved for topping
1/2 cup unpeeled English (seedless or hothouse) cucumber slices and 9 slices unpeeled English (seedless or hothouse) cucumber, divided use
2 tangerines, finely grated for zest, then peeled and separated into segments
2 teaspoons finely grated gingerroot (peeled)
1 1/2 teaspoons chia seeds
2 tablespoons unsalted almond slices
8 small fresh basil leaves
Instructions
In a food processor or high-speed blender, process half the avocado, ice, almond milk, blueberries, 1/2 cup cucumber slices, tangerine zest, gingerroot, and chia seeds for 2 minutes, or until the mixture is creamy.
Pour the smoothie into serving bowls.
Cut the remaining avocado half into thin slices. Arrange the slices in a fan shape on top of each smoothie bowl.
Decoratively arrange the tangerine segments, almonds, and the remaining cucumber slices around the avocado fan. Garnish with the basil.
Nutrition per serving
Calories: 152
Fat: 10g
Cholesterol: 0mg
Sodium: 39mg
Carbohydrates: 16g
Protein: 3g
Makes 4 servings
Follow United Hospital Center on Facebook for more recommended recipes shared weekly.
Please note, the information provided throughout this site is not intended or implied to be a substitute for professional medical advice, diagnosis or treatment. All content, including text, graphics, images, and video, on or available through this website is for general information purposes only. If you are experiencing related symptoms, please visit your doctor, or call 9-1-1 in an emergency.