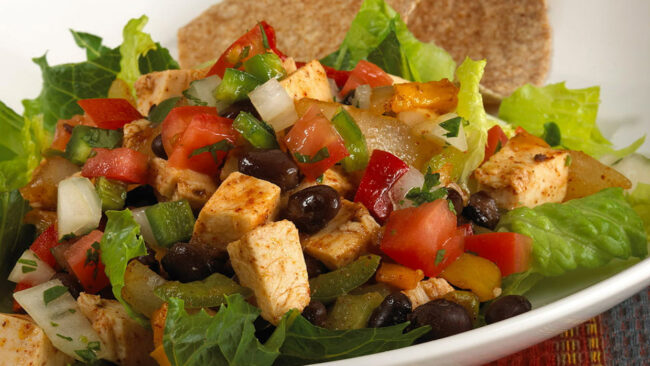 Recommended by UHC Registered Dietitians
Courtesy of American Heart Association
This Simple Cooking with Heart, American Southwest salad is a terrific lunch or dinner option when you have leftover chicken in your refrigerator.
Ingredients
2 tomatoes (chopped)
1/2 small onion (diced)
1 chopped jalapeño (seeds can be removed to be milder), (optional)
1/4 cup chopped cilantro
2 teaspoon lime or lemon juice
2 1/2 cups chopped chicken from leftover Salmon or Chicken Kabobs (refer to related recipes)
16 ounces packaged, frozen bell pepper and onion stir-fry (thawed)
15.5 ounces canned, no-salt-added, or, low-sodium black beans (drained, rinsed)
3/4 teaspoon salt-free chili powder
1 chopped head lettuce (green leaf, red leaf or romaine)
2 whole-wheat tortillas (halved, optional)
Instructions
In a small bowl, add tomatoes, onion, jalapeño, cilantro, and lime juice and combine.
In a heatproof bowl, add chicken, vegetables, beans, and chili powder. Stir and heat in microwave until warmed.
Pile lettuce onto plates. Top with chicken mixture and pico de gallo. Serve with tortilla halves, if desired.
Nutrition per serving
Calories: 305
Fat: 5.5g
Cholesterol: 73mg
Sodium: 163mg
Carbohydrates: 29g
Protein: 33g
Makes 4 servings
Follow United Hospital Center on Facebook for more recommended recipes shared weekly.
Please note, the information provided throughout this site is not intended or implied to be a substitute for professional medical advice, diagnosis or treatment. All content, including text, graphics, images, and video, on or available through this website is for general information purposes only. If you are experiencing related symptoms, please visit your doctor, or call 9-1-1 in an emergency.