The new MRI scanner supports precise, personalized imaging across entire patient population.
United Hospital Center (UHC) recently became the first healthcare institution in the West Virginia to install the Magnetom Sola 1.5 Tesla (1.5T), 70-cm magnetic resonance imaging (MRI) scanner from Siemens Healthineers. The Magnetom Sola features a new magnet design in addition to BioMatrix patient personalization technology.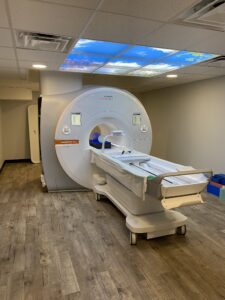 The system's BioMatrix technology addresses patients' anatomical and physiological differences, as well as user variability, to help healthcare providers quickly perform a full range of routine and complex examinations while delivering consistent results for each patient. With this technology, the Magentom Sola can help decrease rescans and increase productivity to improve cost efficiency and the overall patient experience. For example, Select&GO one-touch positioning uses artificial intelligence (AI) to accelerate patient positioning by up to 30 percent compared to laser positioning, helping providers avoid delays due to incorrect positioning.
The new MRI scanner also possesses Turbo Suite, which enables the acceleration of routine scans, including musculoskeletal (MSK) scans, by up to 50 percent. Additionally, Dot (Day optimizing throughput) technology can automate up to 90 percent of exams.
The Sola 1.5T MRI magnet weighs 8,779 pounds and it is housed in a temporary building on the east side of the campus, until a new six-story addition to UHC is completed in 2022. To prepare for the addition and immediately provide the community with additional imaging services, the temporary modular building has also been constructed.
Please note, the information provided throughout this site is not intended or implied to be a substitute for professional medical advice, diagnosis, or treatment. All content, including text, graphics, images, and video, on or available through this website is for general information purposes only. If you are experiencing related symptoms, please visit your doctor or call 9-1-1 in an emergency.